January 23, 2020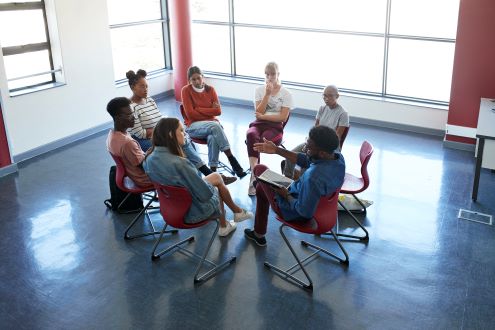 Nancy Jo Lambert didn't know what to expect when she attended the Equity Action Forum at the ISTE19 conference. And she certainly didn't expect to leave the forum on a path to becoming an advocate for LGBTQIA educators.
But that's what happened.
The forum provided a spark that ignited a passion for Lambert and several others that resulted in the founding of EduPrideAlliance, a group dedicated to creating a community for LGBTQIA educators, raising their visibility and working to change perceptions and stereotypes. And in that process, the group hopes to create more role models for LGBTQ students who may not see many people like them in their communities.
"The visibility work that we're doing is just trying to normalize the fact that there are queer folks that are educators," said Lambert, a school librarian in Frisco, Texas, and one of six co-founders of the group. "And not only are queer folks educators, they're good educators, and there's not something perverse about them just because they have a different sexual orientation, gender identity or gender expression."
Putting equity into action
In the seven months since its inception, EduPrideAlliance members have put in motion several efforts to get their mission off the ground. They built a website with information about their mission and resources on LGBTQIA issues in education, and they created EduPrideAliiance on Twitter and Instagram.
They've also presented a webinar on the challenges and triumphs of being LGBTQIA educators and organized the #TeachPride chat focused on a book study and the use of appropriate pronouns in professional settings.
And there's more on the agenda. The alliance is seeking to strengthen its community by attracting more members and encouraging a diverse leadership. Members are also busy creating and compiling resources for straight colleagues on LGBTQIA issues.
The response has been encouraging, Lambert said.
"A lot of us work in isolation and we hide our identities from certain people due to the laws of our states or the conservative nature of our communities," she said. "We've been encouraged by the number of people who have come forward and said, 'Oh, my gosh, I've been looking for community,' or who know someone who could really use this group."
Awareness and visibility are high on the group's agenda.
"When we're talking about visibility, we're talking about educators being able to say, 'This is a piece of who I am,' without repercussion, without the threat of being hypersexualized as a teacher working with students," Lambert said.
"Heterosexual people can talk about their families and their spouses and their lives to no end. But if a queer person brings that up, it's like, 'Oh, we can't talk about that because that's dirty.'"
Coming out is a key part of raising visibility and normalizing who they are, but it can be difficult.
Being role models for students
Lambert said the group realized early on that there has been a lot of progress for LGBTQIA students in terms of safety and curriculum, but not much has been done for educators. In some areas of the country, it can be unsafe for educators to come out. For instance, Lambert said, there could definitely be repercussions for coming out in her home state of Texas.
But identifying as LGBTQIA as an educator can be important to students.
"Most queer educators growing up, every teacher that we had was either assumed heterosexual or was heterosexual," she said. "There were no models for what this could look like. The suicide rate for LGBTQIA young people is extremely high because they don't always see those role models, and they don't exist in a place where there are affirming communities."
Another of the group's aims is to provide resources for other educators.
"There are just so many misconceptions around what it means to be LGBTQIA," Lambert said. "I think a big part of what we're doing now is educating."

Lambert knows about the misconceptions firsthand.
"So many people I come in contact with, if I mention that I'm bisexual, I immediately get questions like, 'Oh, I didn't know bisexuals could get married,' or 'Oh, does that mean you want to have sex all the time?' These are adults asking me these things.
"We also hear a lot about, 'Oh, it's such an alphabet soup.' But everything in education has an acronym. You can't get away from that, and you can't use that as an excuse to not understand your students or colleagues. The time of ignorance being acceptable is gone."
The group intends to add materials to its website for people to "start doing a little bit of education on their own so that when they encounter these things, they at least know what questions to ask and have basic information about the queer community."
ISTE members interested learning more about LGBTQIA issues in education can register for the ISTE Expert Webinar, "Triumphs and Challenges of Being an LGBTQIA Educator Today." Lambert will be one of five educators on the panel on Jan. 28. They'll be addressing questions like:
Why is visibility difficult for LGBTQIA educators and students?
What has improved and what obstacles remain?
What can allies do?
What can schools and educator organizations do to help?
Sign up to watch live or view the recording later.
Jerry Fingal is a freelance writer who covers education, business and finance.